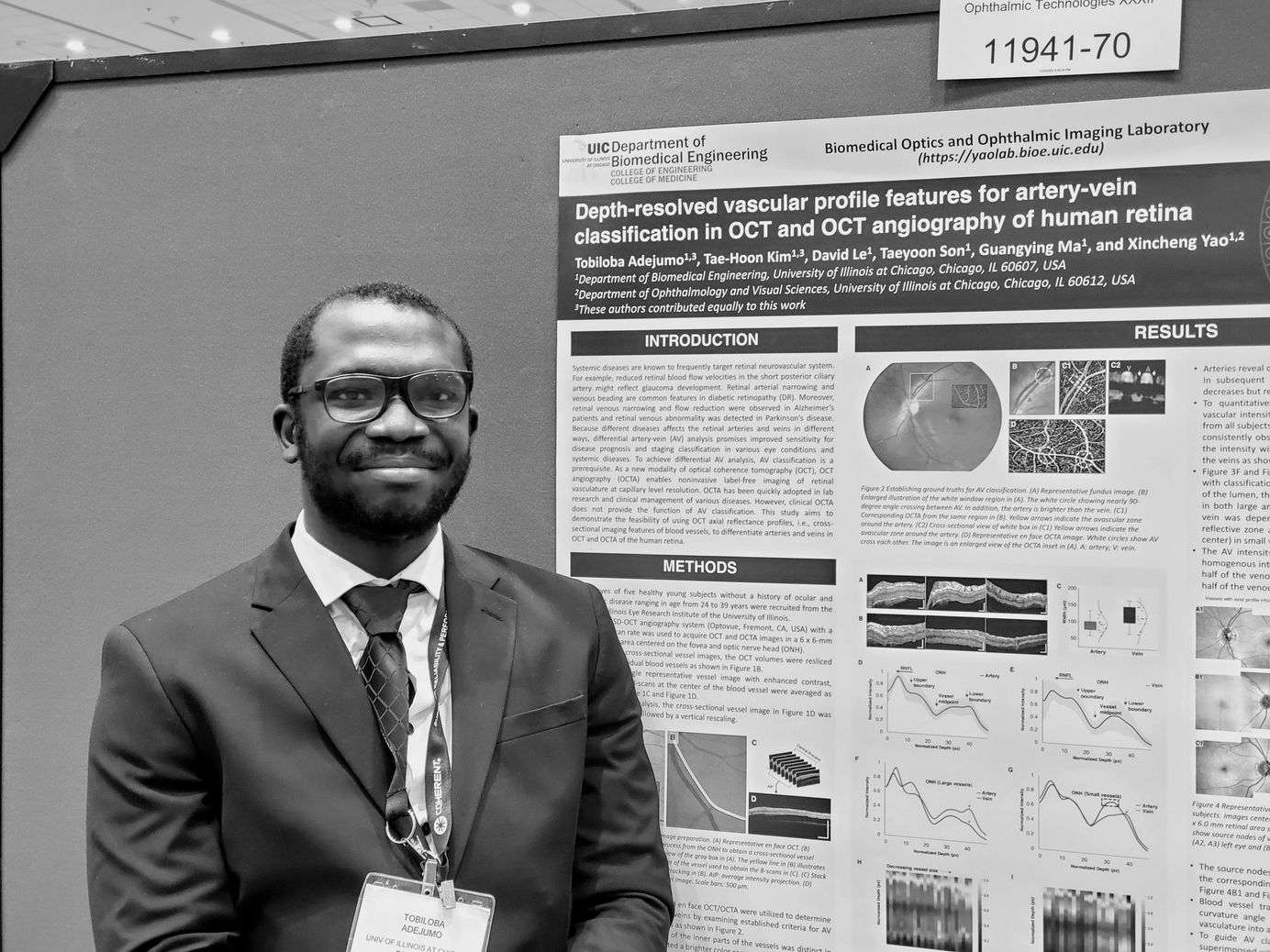 I'm Tobi.
👨🏻‍🎓 I'm a Biomedical Engineering Ph.D student at the University of Illinois Chicago (UIChicago).
💌  I genuinely love people and you will always find me pursuing things that will outlive me.
💌  I also love to explore the seemingly random connections between different fields.
➡️ find me: linkedin | github | medium | twitter
Start here
■  👨‍🎓 Learn more about me
■  🌱 What does success mean to you? Here's what it means to me  
■  ⏳ Read relatable stories about my life and life lessons I have learnt from them
■  💻 Software engineering – Read the articles I published before my sabbatical
■  🧬 Feynman series: short scientific knowledge
■  📕 Scientific journal reviews
■  📚 Book notes and recommendations
■  📙 Study guide for UIC's biomedical engineering
■  📰 Subscribe to my newsletter
Current Read 📚
Latest News 📰
[Award] (2022/04/15) I won the 2nd place in oral presentation at UIC Biomedical Engineering 4th Annual Research Symposium for our work on artery-vein classification using OCT axial features.
[Paper] (2022/04/08) Our work on ADC-Net: An Open-Source Deep Learning Network for Automated Dispersion Compensation in Optical Coherence Tomography is now published in Frontiers in Medicine!
[Professional] (2022/03/11) I officially joined UIC-COE Toastmasters club!
[Blog] (2022/02/15) My Toastmaster speech transcript titled: Who do you think you are is out.
[Paper] (2022/02/01) Our work on artery-vein classification in OCT and OCTA using depth-resolved vascular profile is now published in Biomedical Optics Express!
[Presentation] (2022/01/23) I presented our work on artery-vein classification using axial OCT features at Society of Photo-Optical Instrumentation Engineers (SPIE) conference in San Francisco!
[Professional] (2022/01/10) Unfortunately, because of the demands of being in my second year as a PhD student, I cannot continue in the BSJ team.
[Blog] (2021/12/28) My post summarizing my first year PhD experience is out!
See more
Favorite blogs
Upcoming
■  🔬 Learn more about my research
■  📷 Graduate school pictures. Shall we?
■  🧑‍🤝‍🧑 Celebrating greatness series - Who are we celebrating today?
"When learning is purposeful, creativity blossoms. When creativity blossoms, thinking emanates. When thinking emanates, knowledge is fully lit."  – A.P.J. Abdul Kalam (1931-2015), Aerospace Scientist.